Learn French




with Anthony
Graded conversations to learn French
With transcripts & interactive language activities
Practical & cross-cultural topics related to contemporary social issues
For level A1 (beginner) to C1 (advanced)
Sentence by sentence translation & explanations in English
Based on French textbook series "Défi"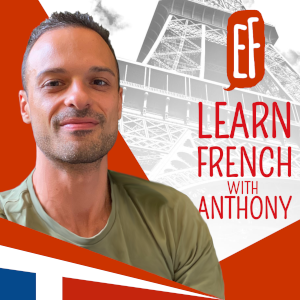 Looking to improve your language skills through engaging podcasts?
My podcasts are designed to help learners at all levels learn and practice the French language through fun & informative contents
With the "Learn French with Anthony" French-English bilingual podcast, you will improve your listening and comprehension skills in French through fun, engaging and informative contents about a wide range of topics. Detailed explanations of new vocabulary and grammar structures used in the podcast are provided in English, so you can reinforce your knowledge of the language, and each podcast episode is accompanied by a transcript, so you can follow along and improve your reading skills. Last but not least, each podcast episode comes with games, activities and exercises to practise new vocabulary words and grammar.
Become a Member,
Access ALL Contents!

All Episodes, Transcripts & Activities




Listen to the Podcast on your Favourite Platform