Indicatif imparfait
The imperfect can have different values:
A - Expressing an ongoing past event, without mentionning the time:
• J'étais jeune sur cette photo. I was young on that picture.
• Il faisait nuit, on ne voyait rien, j'avais peur. It was dark, we couldn't see anything, I was afraid.
B - Expressing a habit in the past:
• Tous les samedis je jouais au tennis. I used to play tennis on Saturdays.
• Avant, j'allais en France chaque été. Before, I used to go to France every summer.
Difference with the compound past:
If you are describing an event, focusing on its process, you need the imperfect (often translated by a past progressive in English e.g.: I was eating). If you are speaking about an event that occured at a particular time (usually adding a clear time reference), you are speaking about it as a whole thing that happened at some point in the past: you then need a compound past (usually translate by a past simple in English e.g.: I ate at twelve today).
Contrarily to the imperfect, the compound past doesn't focus on the process but on the result: the action or event is considered as a whole thing, with a beginning and an end.
> Imperfect: the event is lasting for some time and is not completed (focus on the progress, not the result).
> Coumpound past: the event is completed and is referred to as a "dot" on a time line (focus on the result, no the progress).
e.g.: The man was running (description of the ongoing event happening in the past) and suddenly fell (mention of what happened as a whole thing). In French: L'homme courait et soudainement est tombé.
Now, compare the sentences below:
• J'ai marché sur le port hier soir. I had a walk in the harbour yesterday.
• Je marchais sur le port quand j'ai vu l'accident. I was walking in the harbour when I saw the accident.
In the example above, the first phrase uses the imperfect to provide a description of the background (what is happening and in process), whereas the second phrase refers to the fact of witnessing an accident as a whole thing.
NOTE:
To strengthen the progressive aspect, you can use the fix phrase être (imperfect) en train de + Verb (infinitive)
• J'étais en train de lire. I was reading.
• Il était en train de dormir. He was sleeping.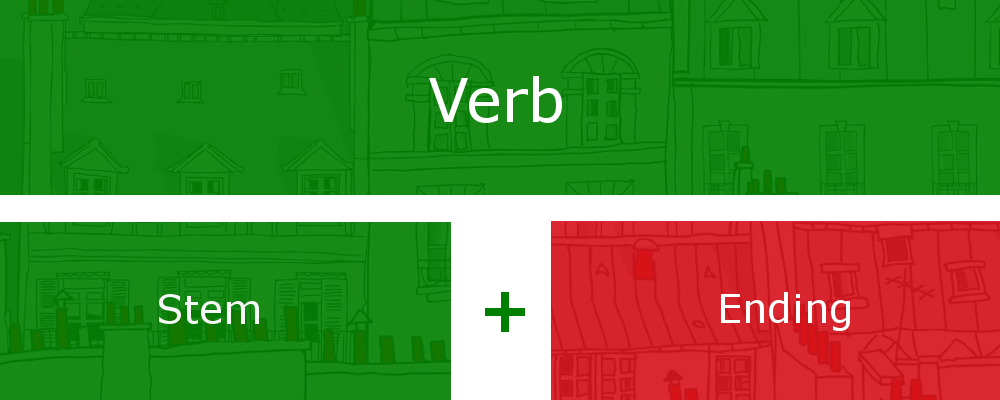 The stem
• take the "nous" form of the present tense,
• remove the ending "-ons" to get the stem,
• Add the unique endings below to the stem.
(Person)
Je
tu
il/elle/on
nous
vous
ils/elles
(Verb)
Stem-ais
Stem-ais
Stem-ait
Stem-ions
Stem-iez
Stem-aient
ALLER
J' allais
Tu allais
Il allait
Nous allions
Vous alliez
Ils allaient
MANGER
Je mangeais
Tu mangeais
Il mangeait
Nous mangions
Vous mangiez
Ils mangeaient
COURIR
Je courais
Tu courais
Il courait
Nous courions
Vous couriez
Ils couraient
FINIR
Je finissais
Tu finissais
Il finissait
Nous finissions
Vous finissiez
Ils finissaient
BOIRE
Je buvais
Tu buvais
Il buvait
Nous buvions
Vous buviez
Ils buvaient
VOULOIR
Je voulais
Tu voulais
Il voulait
Nous voulions
Vous vouliez
Ils voulaient
ÊTRE
J' étais
Tu étais
Il était
Nous étions
Vous étiez
Ils étaient
AVOIR
J' avais
Tu avais
Il avait
Nous avions
Vous aviez
Ils avaient